AOS 93, Coastal Rivers Conservation Trust Partner For Summer School September 7, 2023 at 10:12 am Article by Dylan Burmeister
https://lcnme.com/currentnews/aos-93-coastal-rivers-conservation-trust-partner-for-summer-school/
Prior to school kicking off for the year, AOS 93 and Coastal Rivers Conservation Trust partnered to create a new, hands-on opportunity for local students enrolled in summer school. For four Fridays, students took all-day field trips to local parks and trails, where they experienced "a full day of outdoor education and nature programming," said Sarah Gladu, Coastal Rivers' director of education and citizen science. During the series, students visited the Library Park Preserve and Plummer Point in South Bristol, Pemaquid Beach, and the Bristol Recreation Trail, located at Bristol Consolidated School. Buses picked up students and brought them to the park or preserve where they would be spending the day.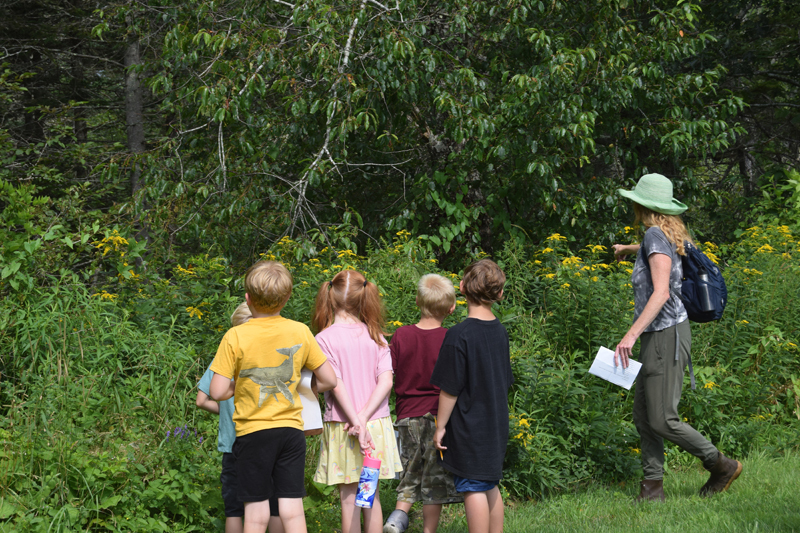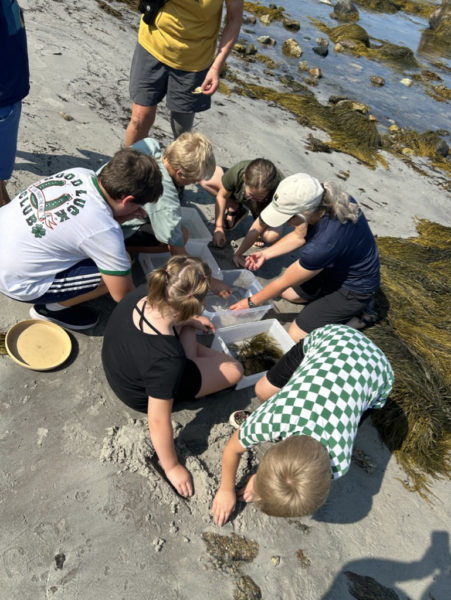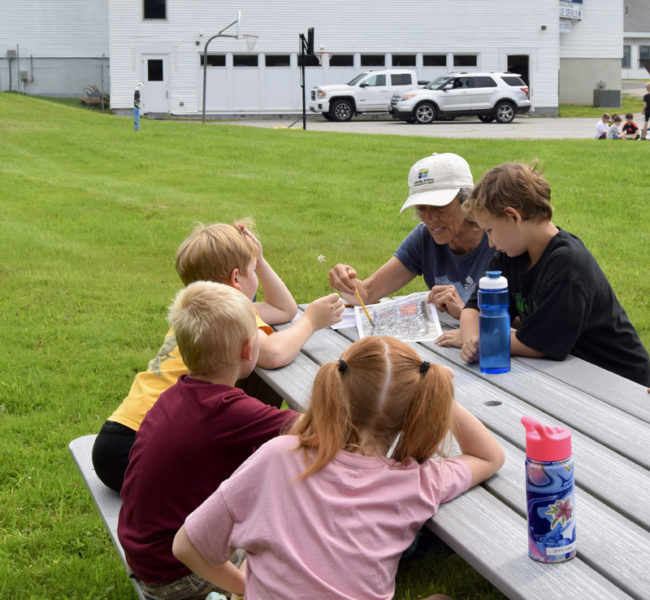 It's a great morning to start our first bus run of the 2023-2024 school year!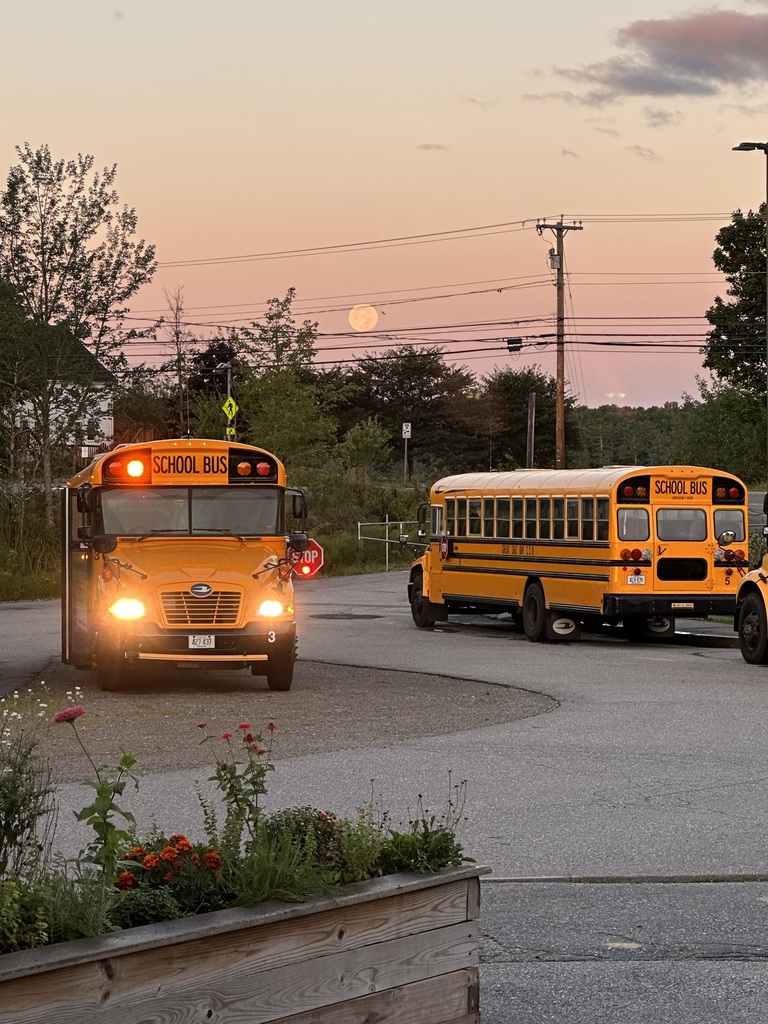 Back to school resources from Healthy Kids!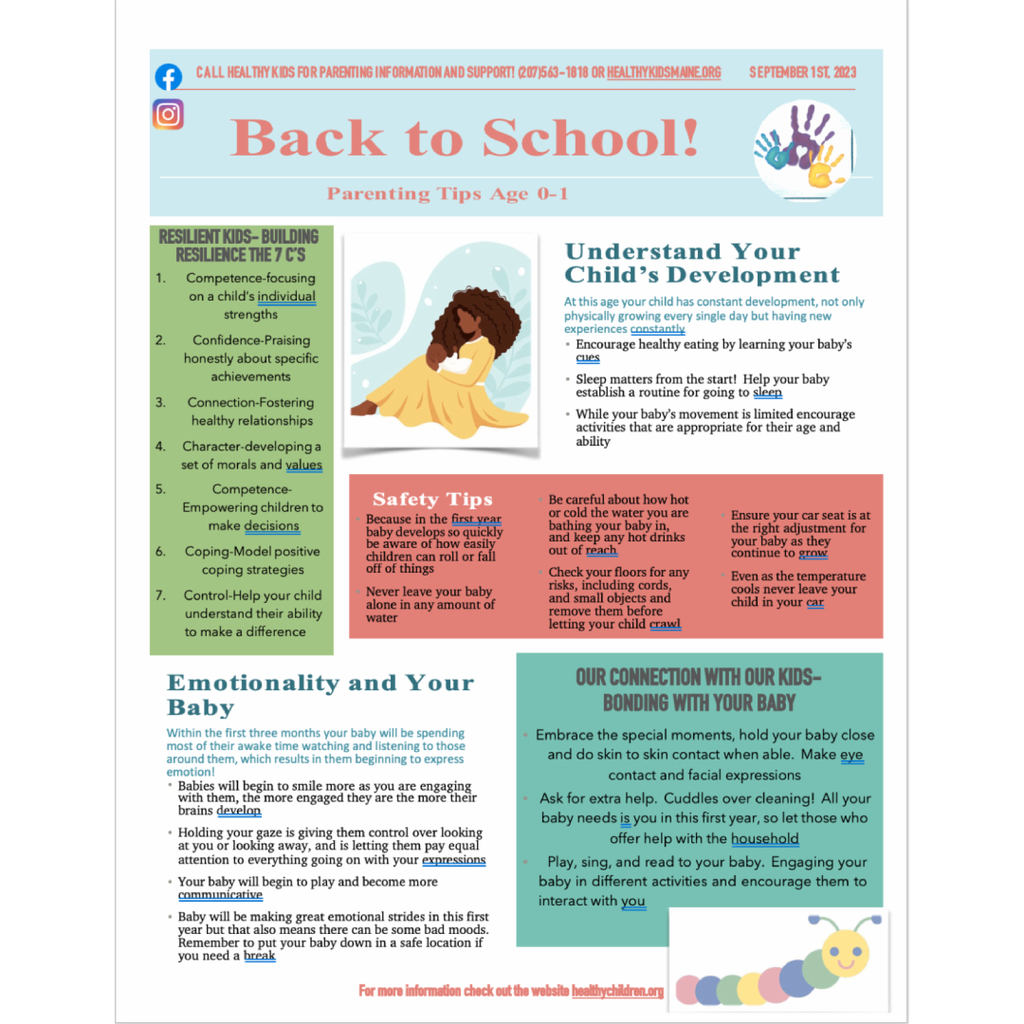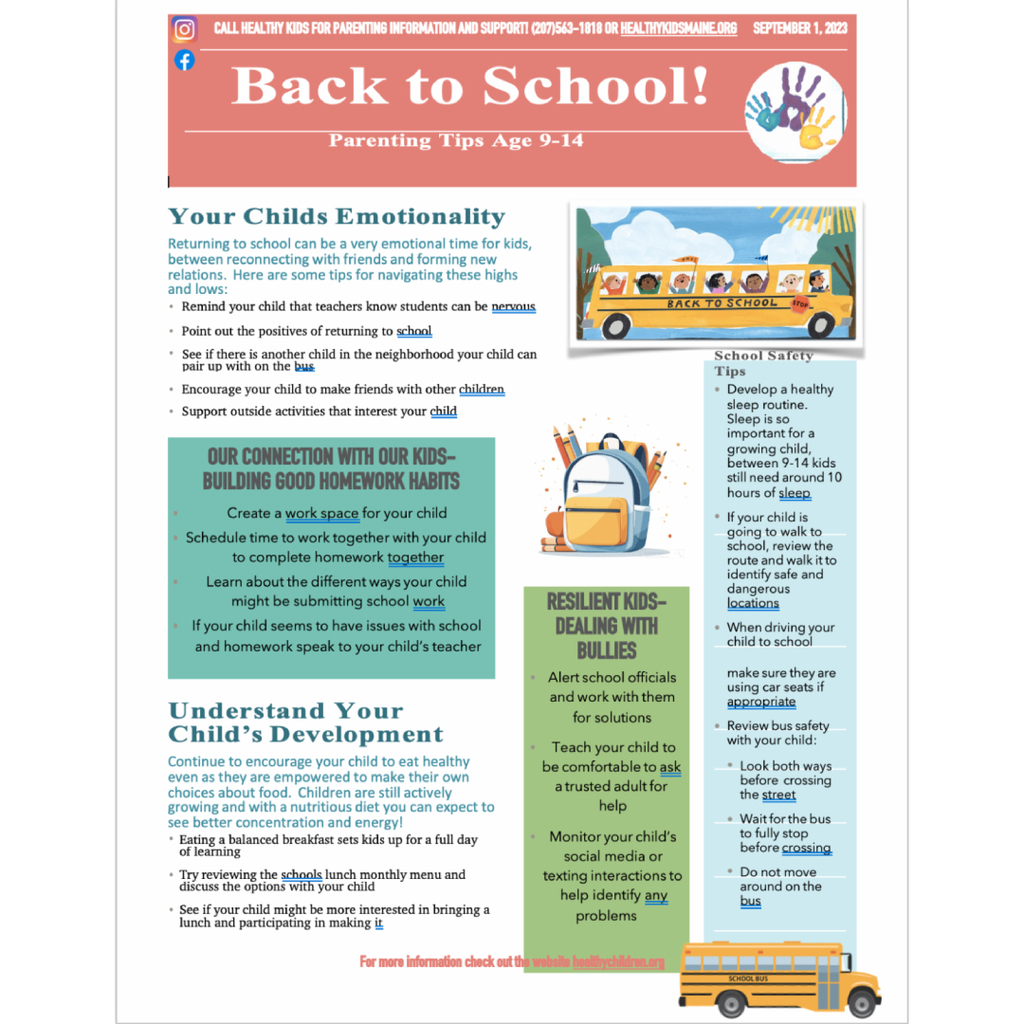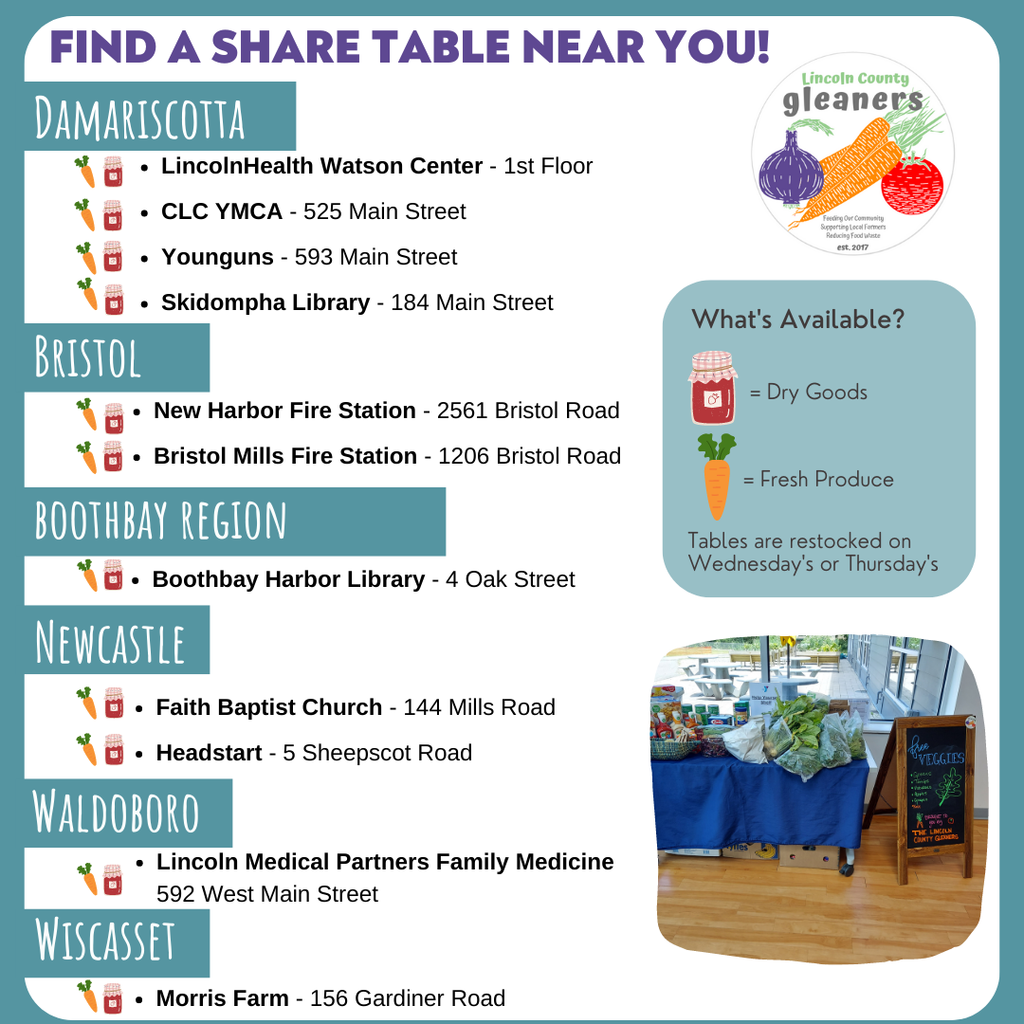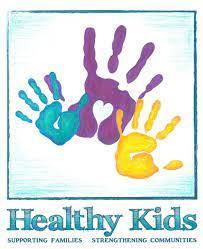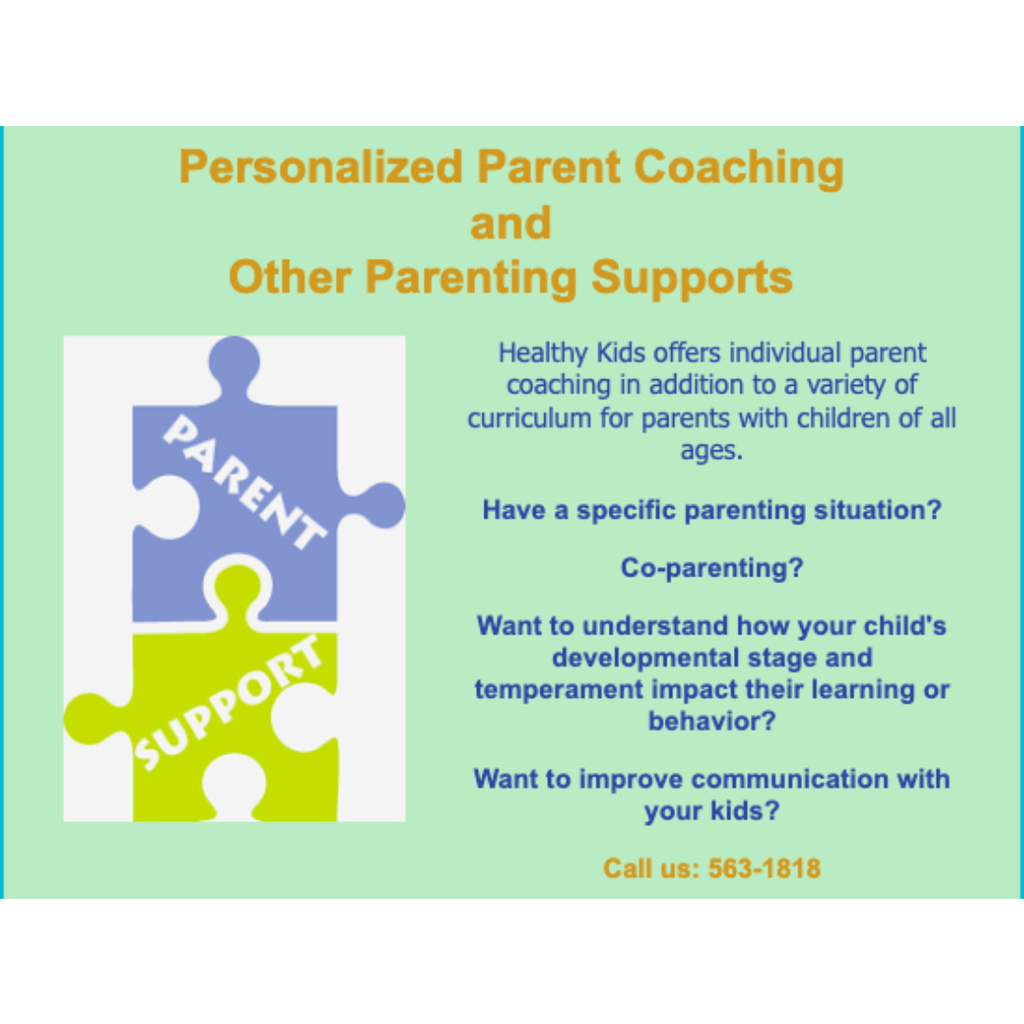 Katie Hurley, renowned expert in Child and Adolescent Mental Health and Development, will speak at Lincoln Theater on June 5 at 6:30 pm. Thanks to sponsorship by Lincoln Academy, Lincoln Health, Great Salt Bay Community School PTO, Hearty Roots, and the Central Lincoln County YMCA, the event is free and open to the public. While attendance is free, pre-registration is encouraged, since the event is expected to fill up. Registration is available through the Lincoln Theater website under 'Talks.' Dr. Hurley's June 5 talk will focus on Adolescents and Technology, and how parents, social workers, and teachers can help mediate the impact of technology and social media use on adolescent mental health. She will address topics including cyberbullying and self-esteem issues that can be triggered or intensified by frequent social media use as well as depression and anxiety. The talk will address some of the pros and cons of technology use among teens, including proactive strategies to curb usage, and offer strategies to help teens learn to use social media for good.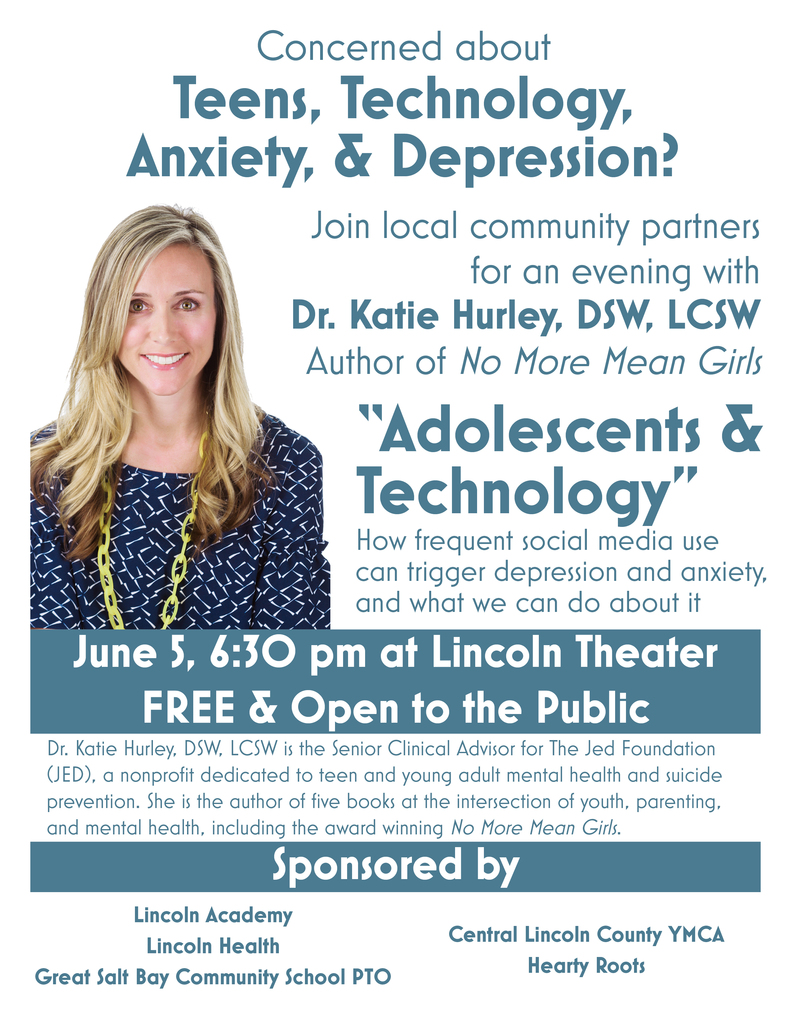 Dear GSB School Community Member: The Great Salt Bay school board is working with staff and community members to create a Strategic Plan for our school. You are invited to share your voice in this process by filling out this short online survey. Several of the questions on this survey are similar to ones used in the 2019 GSB strategic planning process that was interrupted by the pandemic, and the strategic planning committee looks forward to comparing responses. In addition to this survey, there will be a public form on Wednesday, May 24th, 6pm at GSB for members of the school committee to share their input on the future of Great Salt Bay. The deadline to complete this survey is May 31, 2023. The survey can be access at this link:
https://docs.google.com/forms/d/e/1FAIpQLSfvbEKqkY4ZnluqBj8YA-0b_SqNJr2tE0o0J3Ul9wADQC6cUg/viewform
Thank you for participating!

As of 7:35am Wednesday March 15th, only Nobleboro Central School and Bristol Consolidated School have closed for today. Great Salt Bay School, South Bristol School and Jefferson Village School all have a 2 hour delay. Those schools will start at 10:00AM.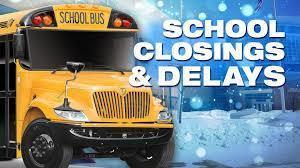 Due to road conditions, there will be a 2 hour delay for AOS 93 schools this morning, Wednesday March 15th.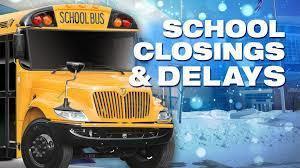 The superintendent has made the official call on calling tomorrow's weather - AOS 93 Weather alert - Due to the impending winter storm, Bristol and Jefferson schools will have a remote learning day on Tuesday March 14th and Great Salt Bay, Nobleboro, and South Bristol schools will have a snow day. Please stay tuned for more information to come as we keep an eye on the weather for Wednesday March 15th.

AOS 93 Weather alert - Due to the impending winter storm, Bristol and Jefferson schools will have a remote learning day on Tuesday March 14th and Great Salt Bay, Nobleboro, and South Bristol schools will have a snow day. Please stay tuned for more information to come as we keep an eye on the weather for Wednesday March 15th.

Come support the LA boys at the Portland Expo tonight at 6:00 pm in their semifinal playoff game! ❤️🦅🏀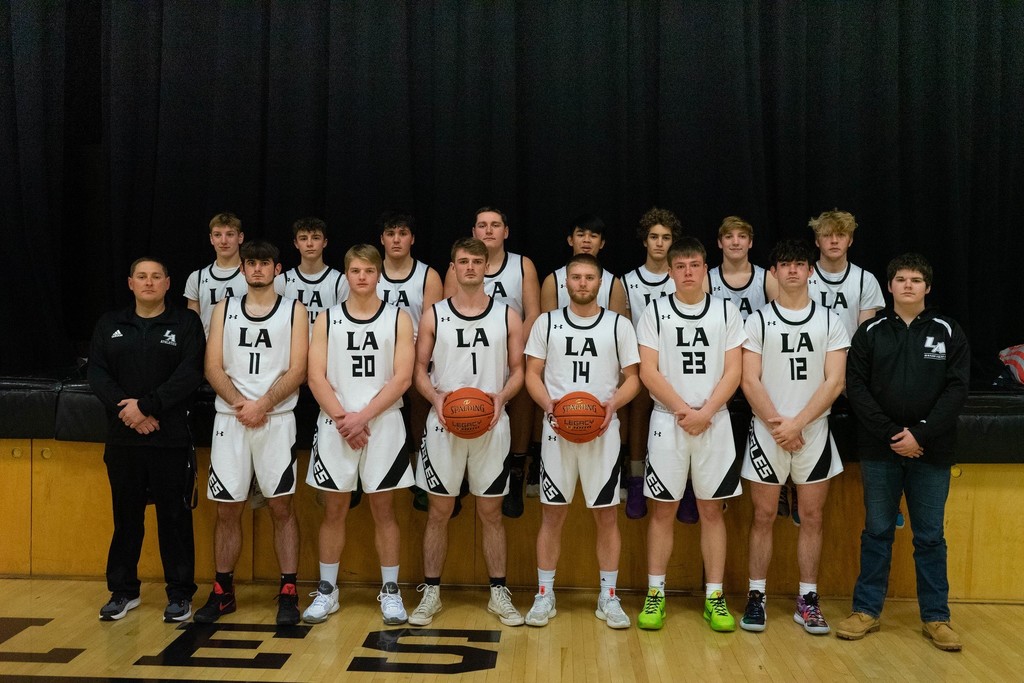 Catch up with the latest student stories, events, and news updates. It's everything AOS 93, in your pocket. If you haven't already, download the app! Download for Android
https://bit.ly/3hCCbQJ
Download for iPhone
https://apple.co/3FCws5r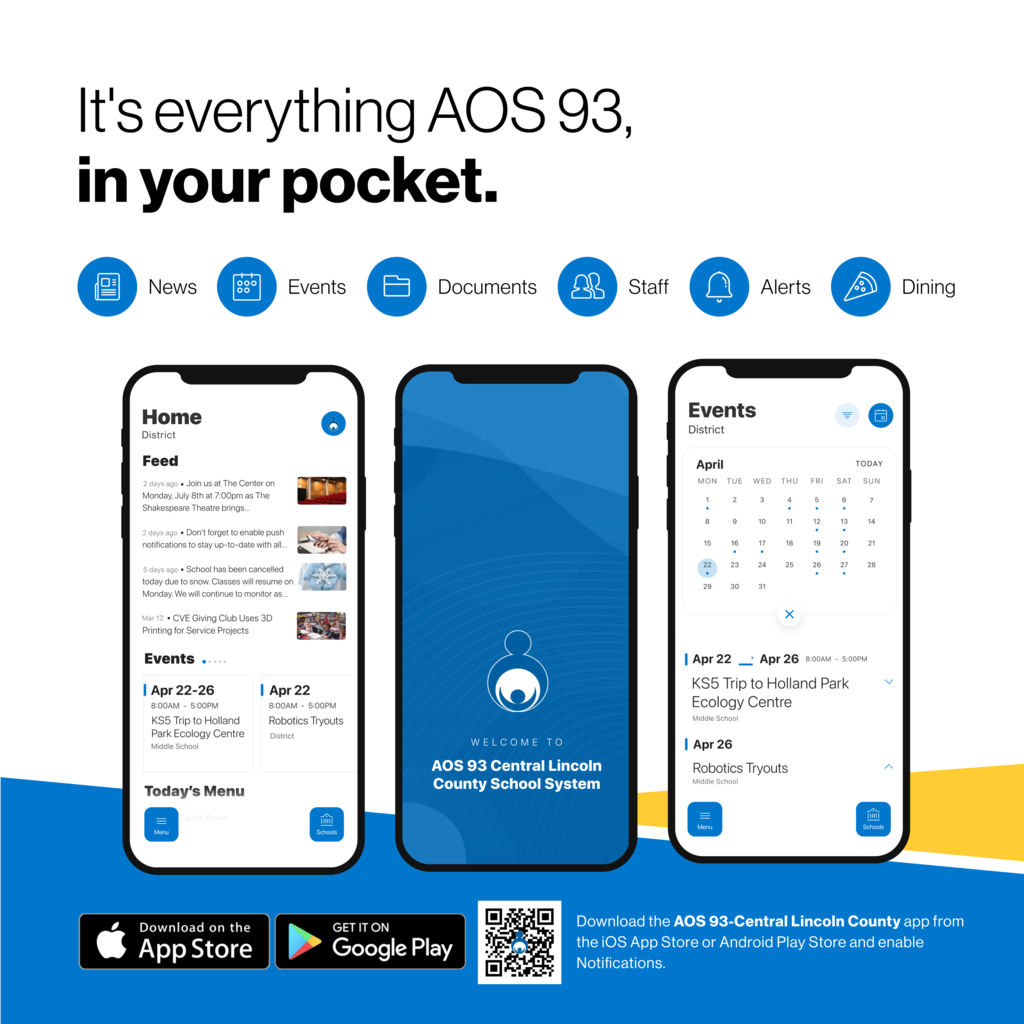 Great Salt Bay. School will be closed today, Friday February 17, due to a threat. More information will follow later in the day.

The Strategic Planning Committee of the Great Salt Bay School Board is hosting a public forum Wednesday, February 15th at 6PM. To accommodate flexible participation, this forum will be held remotely over Zoom. All community members are encouraged to participate in this forum, as input from everyone is critical to our ongoing effort. Questions to consider ahead of time… What services, curriculum, and programs should our school offer? What is our school doing really well, and what can be improved? What should we be planning for in the future? What would the ideal school campus look like? We anticipate another forum will be scheduled in the spring where the first phase plan will be shared, and we'll have another opportunity for community input into the process. Watch for an updated survey to be sent out as well in the coming weeks, which refreshes data collected in 2019. Zoom link to join:
https://www.google.com/url?q=https://us02web.zoom.us/s/86570974091?pwd%3DeFpUKy9OdFdiZ2tDSUV0SHExRWN1Zz09&sa=D&source=calendar&ust=1676835164750812&usg=AOvVaw2NAd51EmC4tzM-BLfiqqwm
Passcode: 665848

GSB students who won 2nd place and Honorable Mention in the MSTOYA/MCLA Writing Contest. They competed against 58 (3rd-5th) and 92 (6th-8th) students from across Maine. The theme was "A Teacher Who Impacted Their Lives". They wrote about GSB teachers Ms. Tracy and Ms. Jen. Congratulations to them both!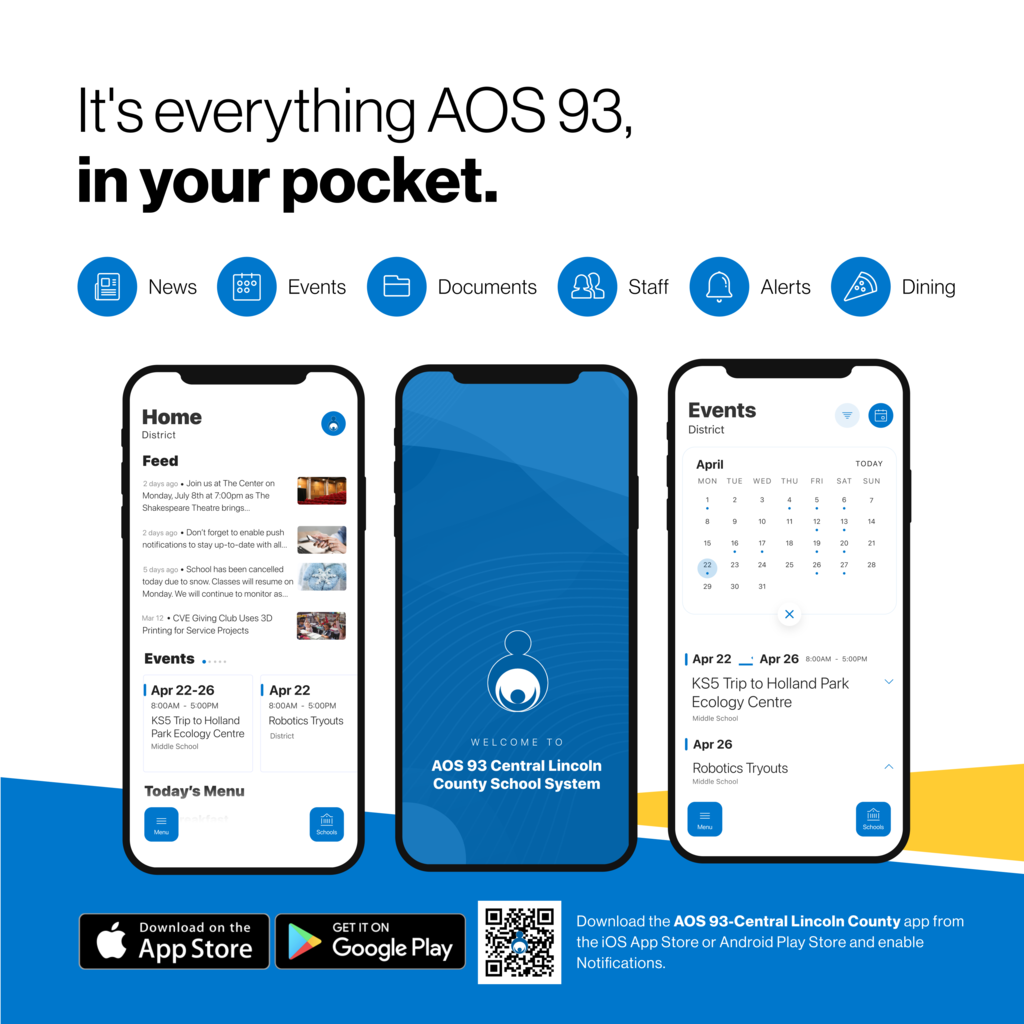 Congrats to the Bristol Boys Basketball Team for their win against Woolwich, 66-25! Come cheer them on at the Busline League Division Championship Game at Lincoln Academy on Saturday. Download the AOS 93 app in the Google Play or App Store for Saturday's game time.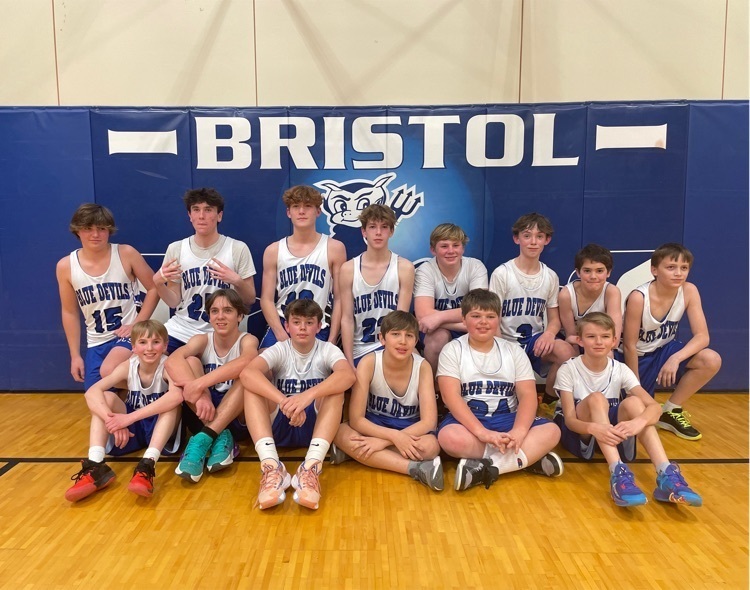 Lincoln Academy would like to send a reminder to invite your 8th graders to our Course Registration Info Night, which will take place on February 16, 2023 from 6:30-8:00pm in the Lincoln Academy Alumni Dining Commons. As you all know, the year will start to fly by faster and faster now, so here's a timeline of our upcoming enrollment events to keep on your radar. Follow Lincoln Academy on Facebook and Instagram for updates, and if you are interested in learning more, visit our website at
www.lincolnacademy.org
or sign up to receive our weekly newsletter. Lincoln Academy visits 8th graders at local sending schools - February 6-10 8th Grade Course Registration Information Night - February 16 (6:30 - 8:00) Snow Date - Same Date and Time Online: meet.google.com/zkc-uihh-jvk 8th Grader Online Q&A: February 27 (Virtual 6:30 – 7:30 pm) Link: meet.google.com/hox-towm-bhy AOS 93 PowerSchool Portal opens for course selection - March 1 - 6 Completed Honors applications to 8th grade teacher/counselors - March 3 Enrollment Forms & Honors applications dropped off to Lincoln Academy by sending schools - March 10 Class of 2027 Ice Cream Social - Lincoln Academy - May - Time/Date TBD Math Placement Exam - Thursday, June 1 (3:30-4:40) & Saturday, June 3 (10:00-11:10)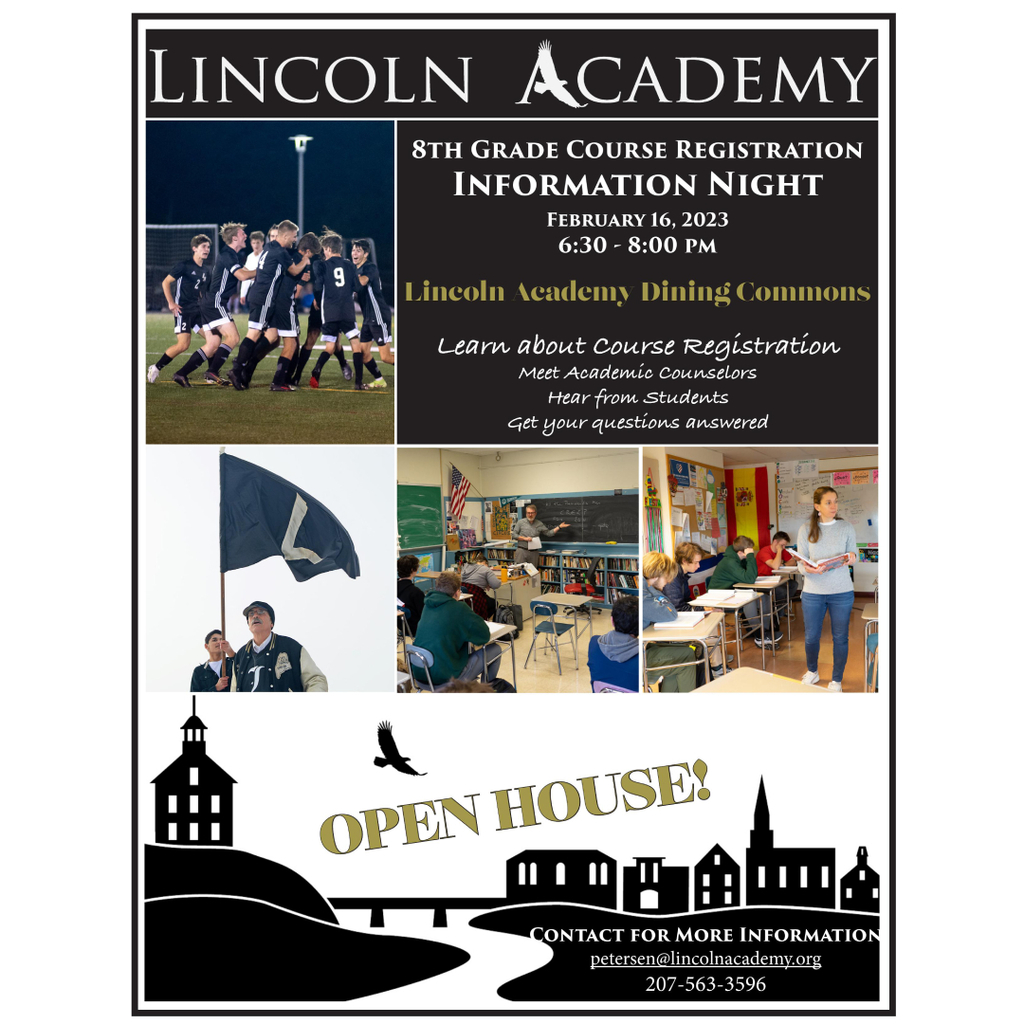 Mr. Coleman's students made tracking lanyards, and then tested out their newly learned tracking skills. They also learned that even if you can't identify what animal made a track, the size, distance between tracks, direction of tracks, and surrounding evidence can tell a fascinating story about how animals survive during a cold Maine winter.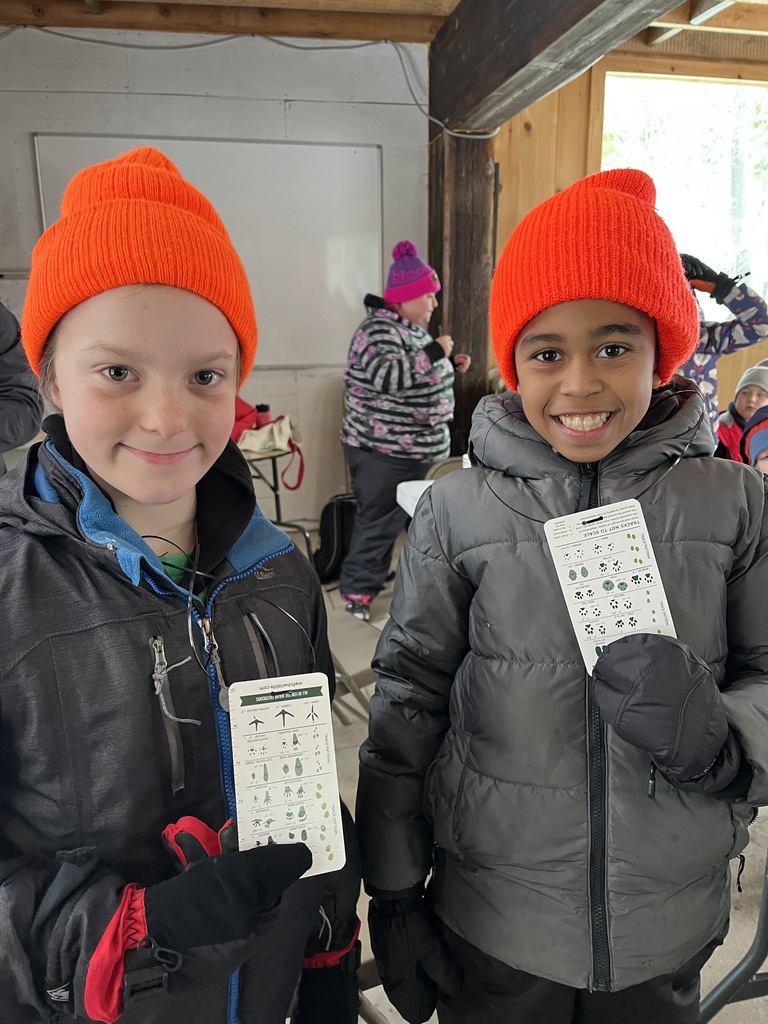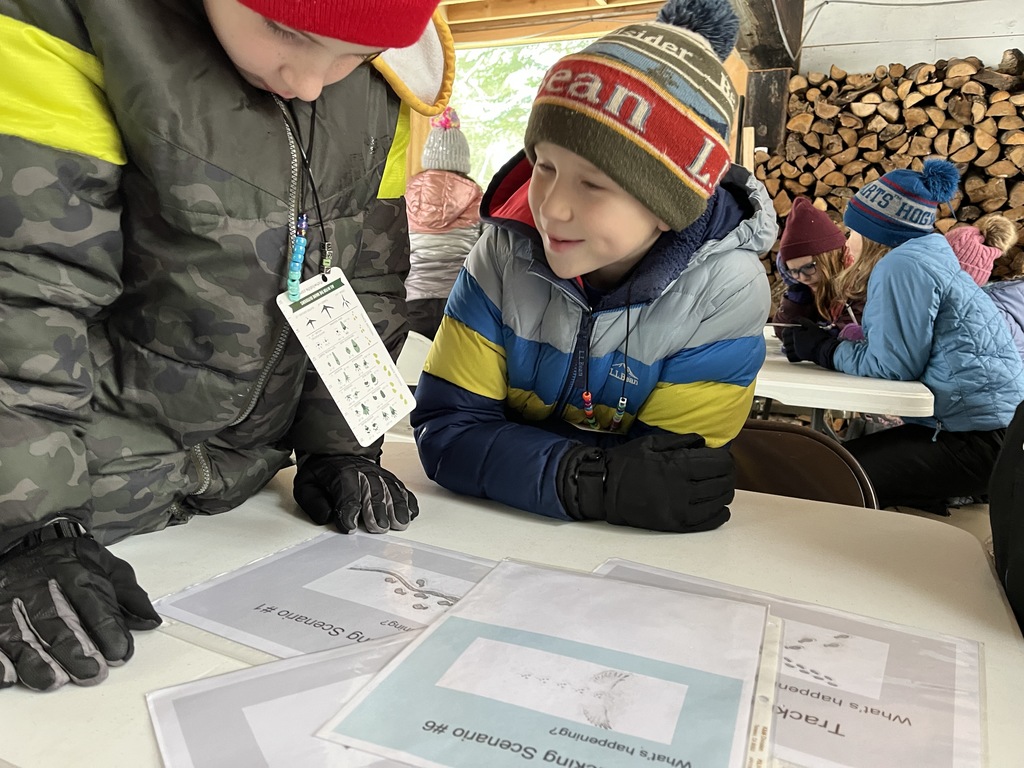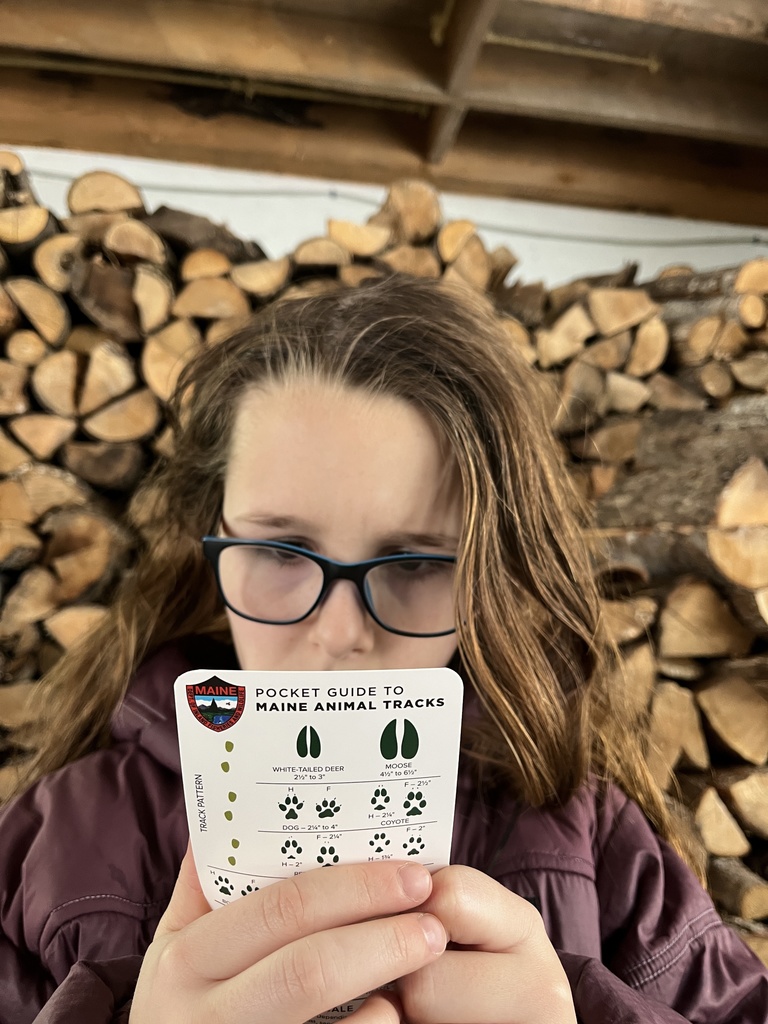 Special guest artist, Graham Walton, will be visiting GSB on Monday 2/6/2023

On this frigid day, our GSB kindergarteners tried walking with eggs on their feet like emperor penguins.